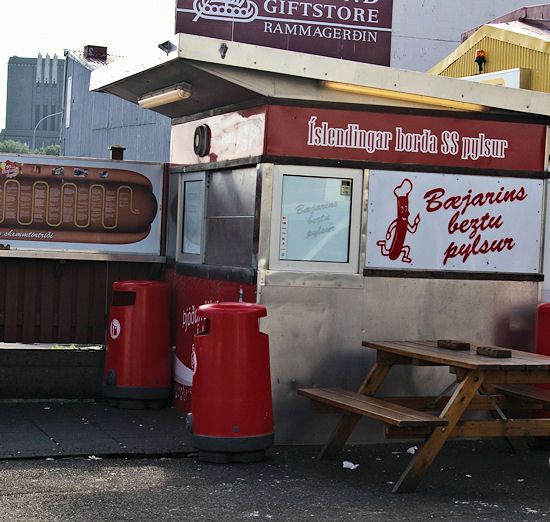 It's general knowledge that I wanted to go to Iceland for a long time, that my sister had been several times with her husband, and this summer, my mother, my sister and I went together, finally? Good.
We start in Reykjavík. This little place by the harbour is famously the best hot-dog stand in Iceland. It doesn't have to mean much, as there are only 300,000 people in Iceland, and only enough hot dog stands for those.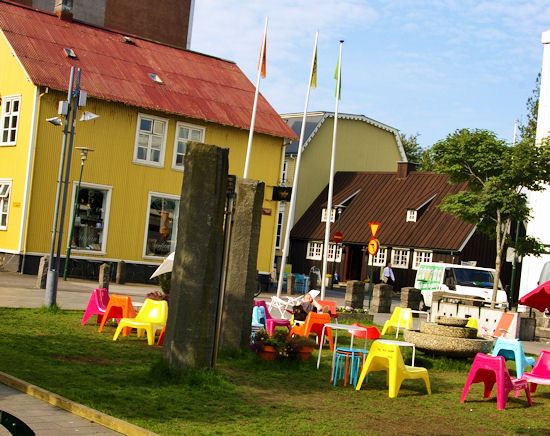 Due to the banking crisis of 2008, Reykjavík elected a comedian named
Jón Gnarr
as its mayor as all the traditional politicians were considered corrupt and tainted. Albeit not a five-headed dragon, he was of course a strange choice, but they kept him on because he does good work. My littlest nephew Jón is actually named for him. One thing happening under his administration is lots of leading-edge art in public spaces -- including this cheerful seating arrangement in the main square of the oldest part of the city. Laugavegur, the main shopping street, has been turned into a pedestrian zone by means of turnstiles that are ridden by neon-painted bicycles (!) and scattered with neon-painted picnic benches. Very lovely. Were we Icelanders, I am sure we'd all vote for Jón Gnarr as well.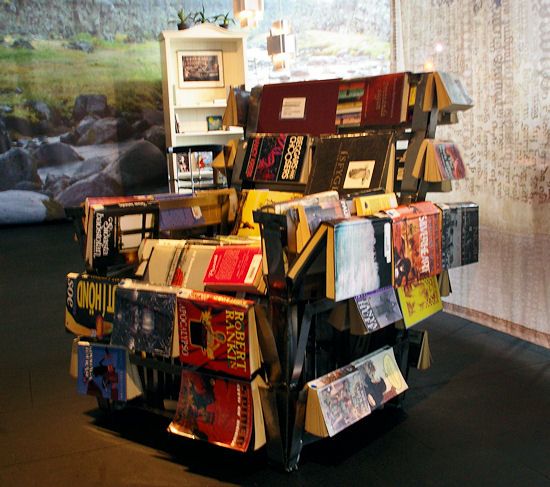 In the city hall, there was a exhibition of book-related art installations. I loved this throne of library books -- note the book by Tanya Huff, one of my favourite SF writers, in the right arm. I tweeted that to her, and she retweeted it, which made me quite happy as well.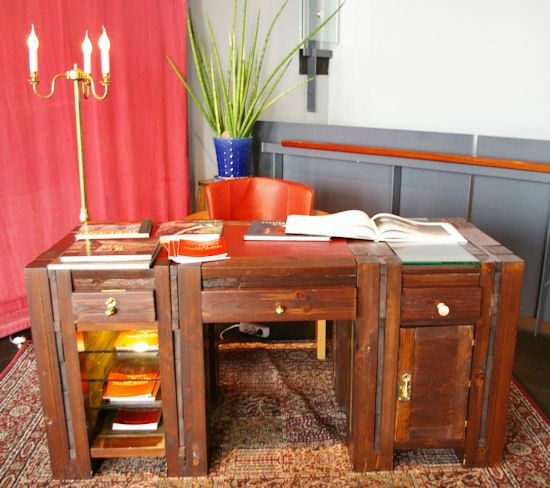 Another book-related installation. Iceland is quite proud of its writers and its literary output.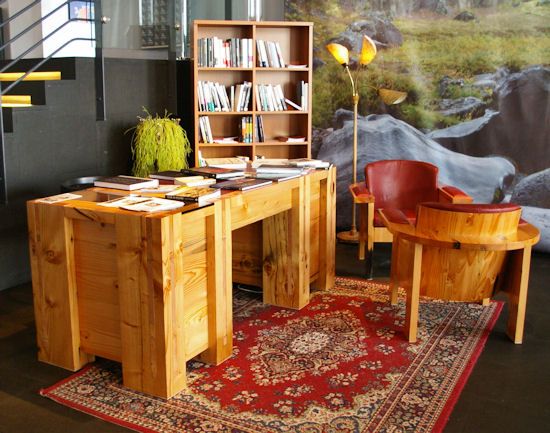 Another one. I loved them all.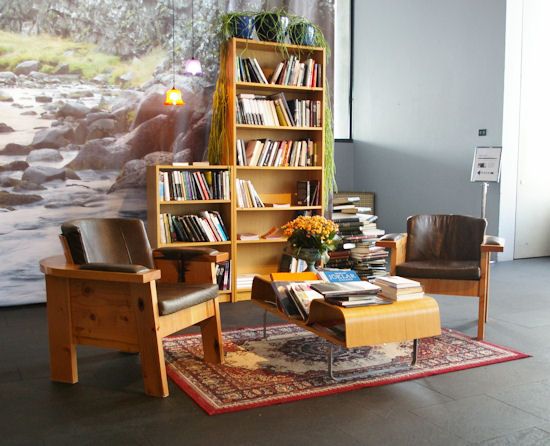 And the last one.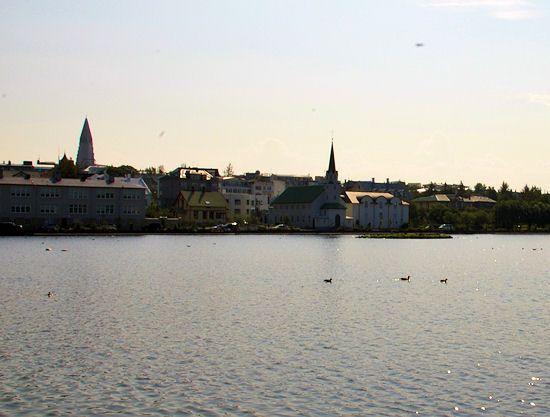 View to the cathedral (by the water), parliament and Hallgrímskirkja (on the hill) from the city hall, over Tjönnin lake. In Iceland, even the big important big things are a bit smaller. Only nature is large.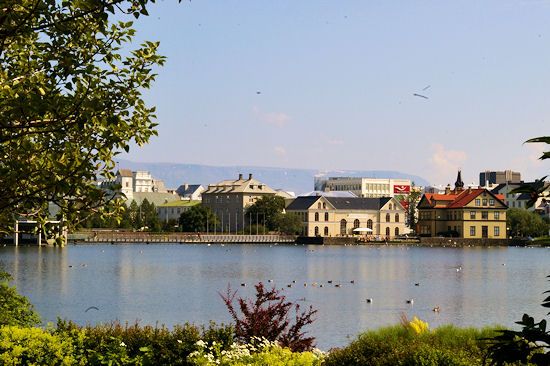 Old buildings beyond Tjönnin.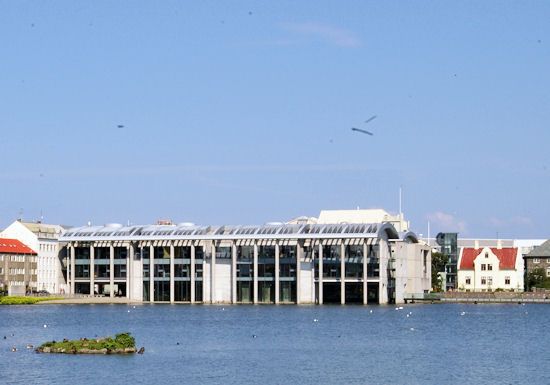 Look back at the city hall.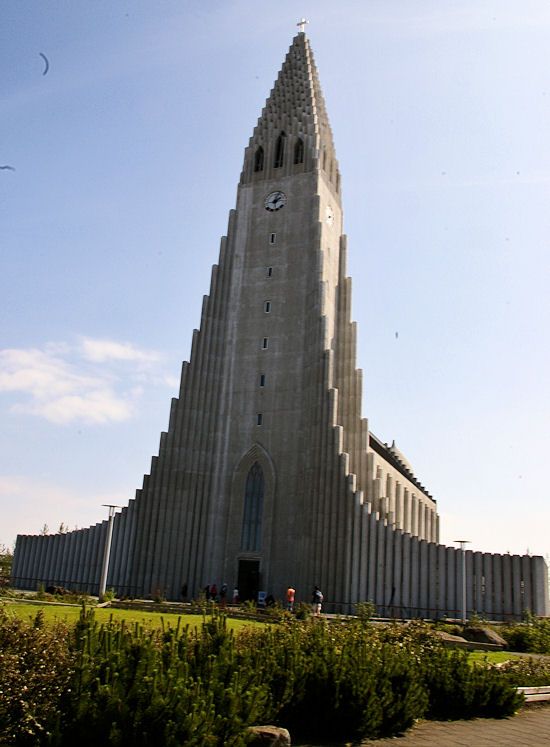 Hallgrímskirkja on top of the hill.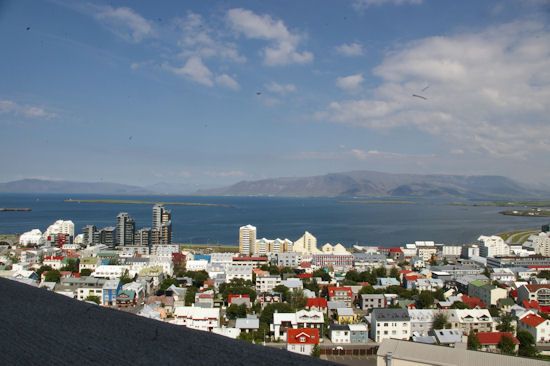 View from the tower of Hallgrímskirkja.
Café Loki near Hallgrímskirkja with its lovely bright yellow chairs. We had lovely coffee, cake, and ice cream there twice.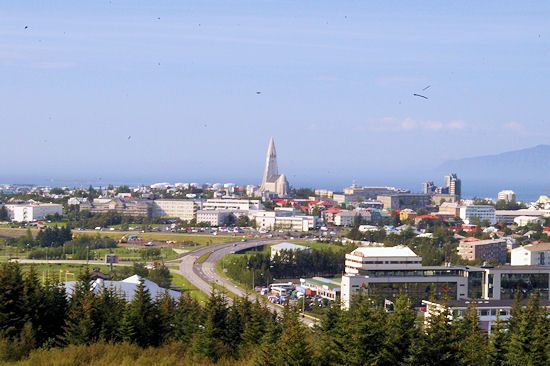 View of Hallgrímskirkja from the Perlan water-tank, now converted into a museum and cultural centre.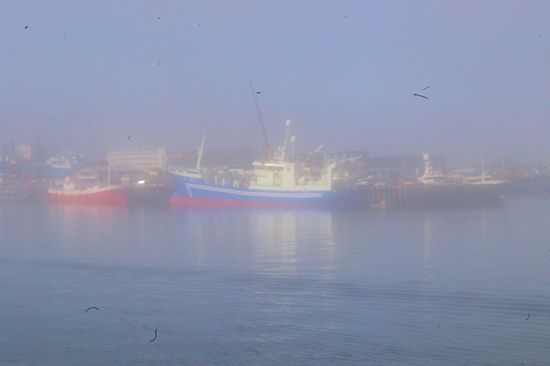 The next day, my sister and I wanted to go whale-watching, but it was so foggy, it was more like whale-listening. We did see lots of jellyfish and puffins, though.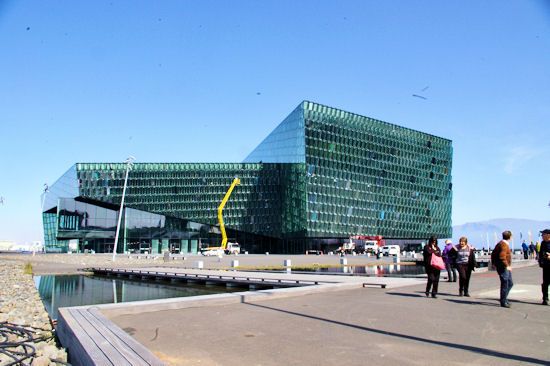 The new Reykjavík opera house, known as Harpa, a very futuristic building built during the time of greatest affluence before the banking crisis.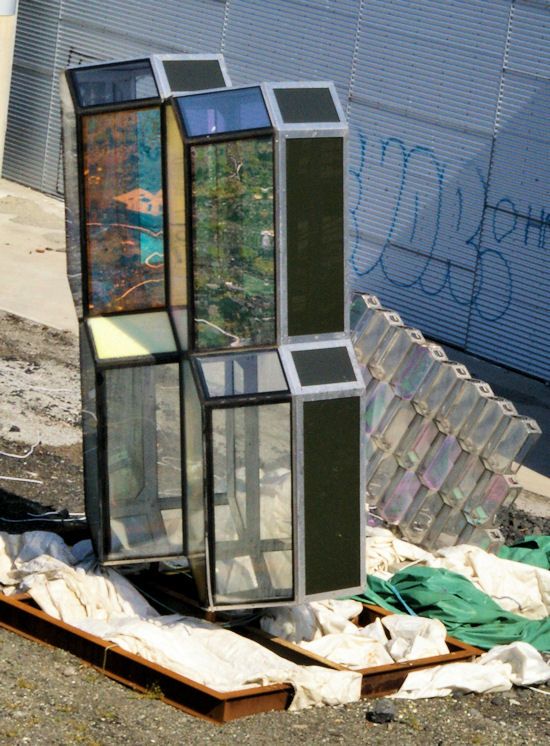 Harpa is mostly made from these glittering glass elements.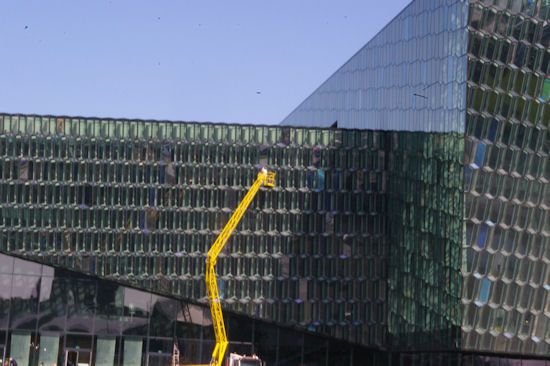 The façade was being cleaned that day.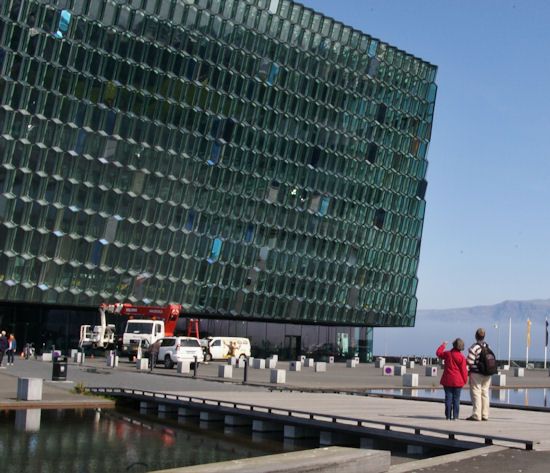 You can see the shimmer of he sunlight on the honeycomb-like structure.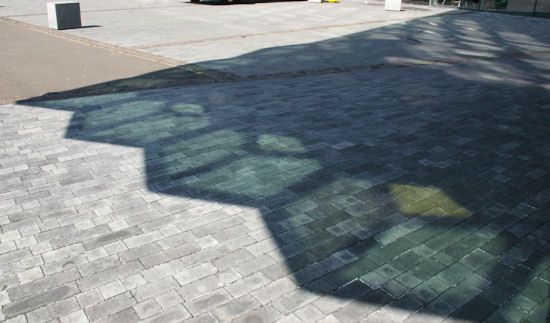 Shadows of Harpa on the pavement.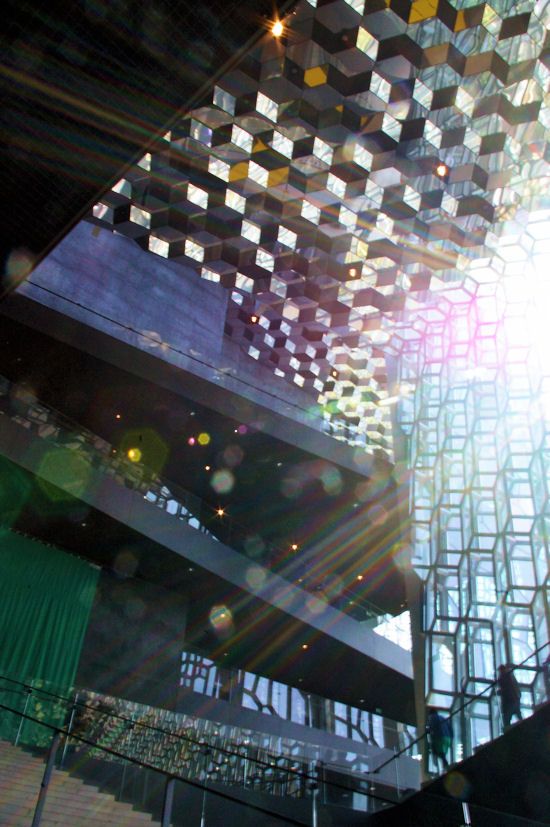 Inside Harpa.
Inside Harpa.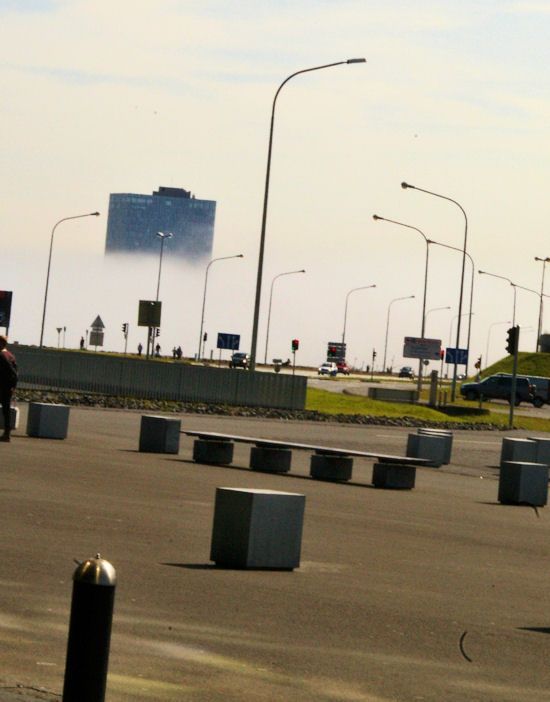 High-rise in the mist.
Bank of mist still lingering over the sea.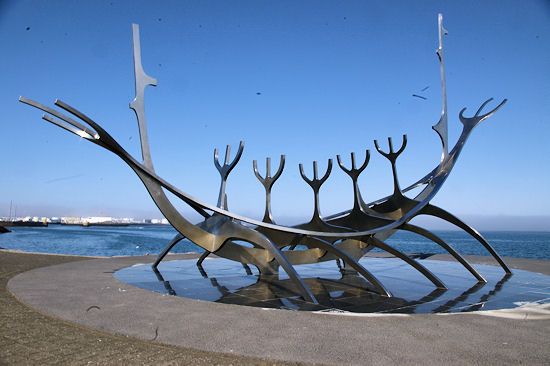 Abstract Viking ship by the harbour, as a monument to the first settlers of Iceland.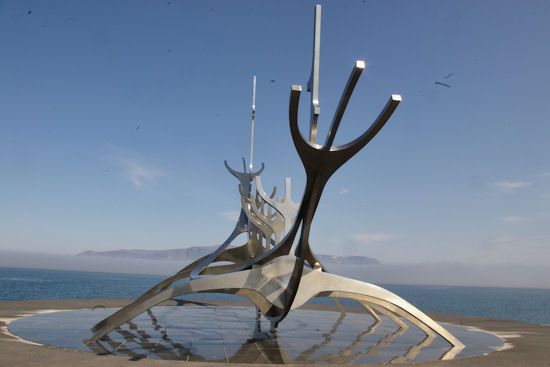 Front view of the Viking monument.
And early the next day, we left Reykjavík to see some natural wonders of the country, which is what tourists actually go there for -- human habitation and culture is small, precarious and limited while nature is wild and barren. More of that in part 2.